Liatris is a summer-blooming perennial with grassy foliage and fuzzy, bottle-brush flowers. Commonly known as blazing star or gayfeather, this North American wildflower makes an attractive addition to flower gardens, cutting gardens, landscaped areas, and informal plantings. The distinctive flower spikes stand 2 to 4-feet-tall and are magnets for butterflies.
---
STEP 1 - KNOW
START WITH A BETTER BULB
Liatris is usually grown from corms that are planted in early spring. Longfield Gardens supplies grade #1 corms that will grow into healthy plants with strong, well-developed root systems (as shown below).
---
STEP 2 - PLAN
SUN AND SHADE: Liatris grows best in full sun, but the plants will also tolerate some shade.
ZONE: Liatris are hardy in zones 3-8. Not sure about your hardiness zone? Check the USDA zone map HERE.
WHEN TO PLANT: Liatris corms are planted in spring, when the weather is cool and it's easy for the young plants to get established. Flowers usually appear the first year, approximately 70 to 90 days after planting, and the plants will rebloom for many years to come.
WHERE TO PLANT: Liatris grow wild in meadows and prairies throughout many parts of the U.S. Though the plants prefer well-drained soil, they will tolerate more moisture than many other garden perennials, so are often included in rain gardens.
Liatris makes an eye-catching addition to flower gardens. The stately, wand-like flowers bloom in mid to late summer. Flower color is typically amethyst-purple, but can also be pink or white. The flowers are beautiful in summer flower arrangements, so they are a good addition to cutting gardens.
As a native plant, liatris is vigorous enough to hold its own when planted in a meadow, native plant garden or naturalized area. The flowers attract a wide range of butterfly species, so they are a must for butterfly gardens. Liatris is a good companion for ornamental grasses and is especially attractive when planted in large sweeps or drifts.
---
STEP 3 - GROW
PLANTING IS AS EASY 1-2-3
1. Loosen the soil to a depth of 6-8".
2. Dig a 3" deep hole and put one corm into the hole.
3. Cover and water if the soil is dry.
TIPS FOR GROWING LIATRIS
Liatris are tough plants, but if the weather is dry, the newly-planted corms should be watered weekly until they have established a strong root system. As with all bulbs, avoid over-watering.
After the first couple of months, liatris will need little to no attention. The plants are relatively drought tolerant, naturally, pest and disease resistant, and deer usually ignore them.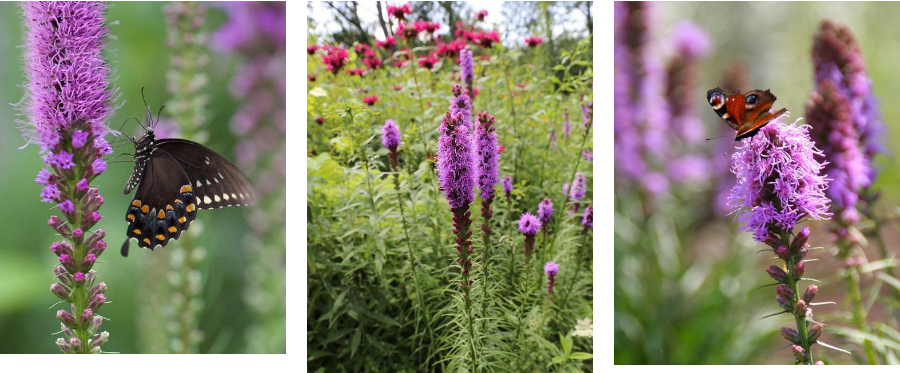 ---
STEP 4 - AFTERCARE
CARING FOR LIATRIS AFTER THEY BLOOM
When liatris have finished blooming, the flower stalks can be cut off at the base of the plant. The flowers provide vertical interest even after their color has faded, so feel free to leave them standing -- especially in naturalistic plantings.
Give your butterfly friends a treat by planting liatris! The corms are available for spring planting from March-May.