How to Grow Dahlias In Containers
Dahlias are heat loving plants that grow best in warm soil. Growing these flowers in containers is a great way to give them the extra warmth they need to put on a spectacular show. Container gardens also make it easy to enjoy dahlia flowers and almost anywhere around your home. Decorative border dahlias have the blooming power of full size dahlias, but their compact size makes them a great choice for containers. This article will familiarize you with what's in your kit, how to plant and how to care for them for the best results.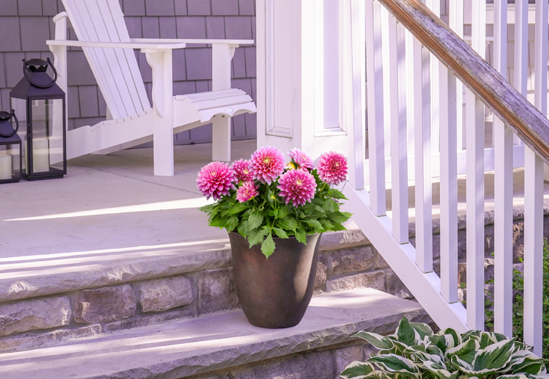 What's Included in Your Kit
Your kit includes a bag of soil, 1 dahlia tuber, decorative pot, lid and a small plastic bag containing rubber plugs.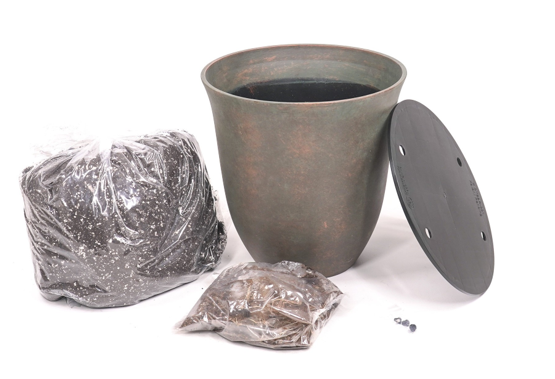 Step 1: Save the Base Plugs
Your container comes with a bag containing three rubber plugs. These are installed when the container is moved inside or when starting plants indoors before being moved outside. When the plugs are removed for outdoor use, this provides adequate drainage for your soil. When indoors, these plugs prevent a leaking mess.
To install, press firmly on the top of the plug until the wider top is flush against the bottom of the pot.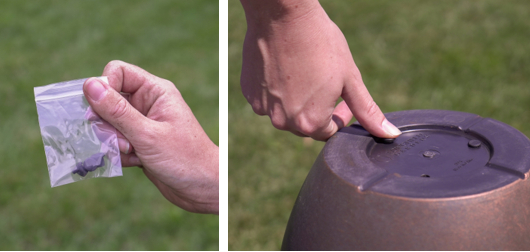 Step 2: Arrange Bulbs & Soil
Fill the container with about two-thirds of the soil. Place your dahlia with the long tubers (bottom) down and short stem (top) facing up. Backfill the soil on top of the dahlia tuber. The tuber should be about 1" below the soil surface.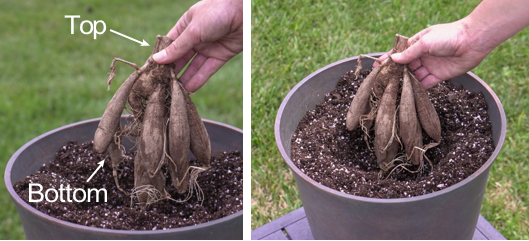 Step 3: Watering
Water lightly after planting and until you see the sprouts above the soil level. Usually about once per week. Do not overwater as keeping the soil overly wet will result in a rotting tuber. Planting higher up along the soil line should keep the tuber from rot.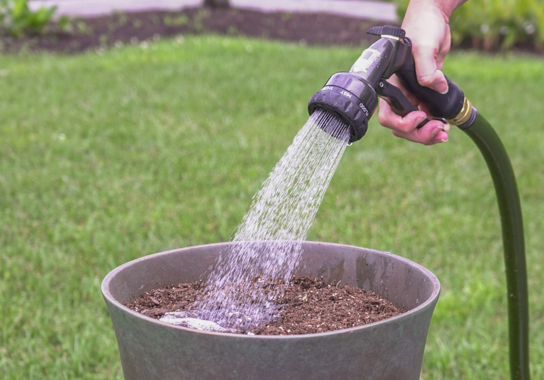 Soil should feel somewhere between "fresh out of the bag" and moist. Not saturated or dry like sawdust. Once the dahlia has sprouted above the soil, water to keep the soil moist to the touch or as often as you would any other container plants.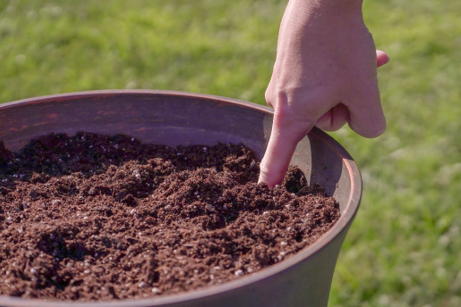 Step 4: After Care
Dahlias bloom best in full sun, so choose a sunny spot. Once your dahlias are 8-10" tall, begin fertilizing them with an all-purpose liquid fertilizer every 3 to 4 weeks. Pinching dahlias when they are about 10" tall will give you a bushier plant with more flowers.
When the first flower buds appear, reduce 2 or 3 of the tallest stems to half their height. This will encourage the plant to produce longer stems.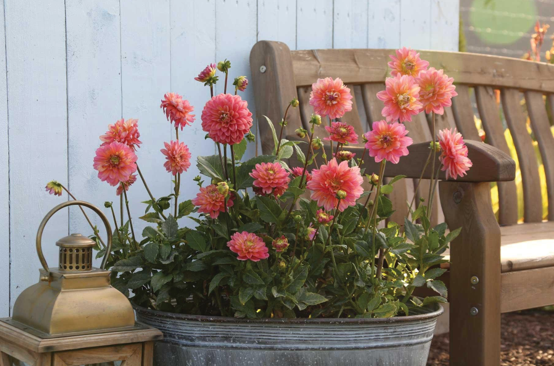 Step 5: The Value of Pinching Dahlias
Pinching or "topping" young dahlias will give you stronger, bushier plants with more flowers. Pinching temporarily redirects the plant's energy toward producing stems and leaves rather than buds. It will take an extra week or two to get flowers, but it's definitely worth the wait.
When to Do It. The best time to pinch is when the plant is about 10" tall and has at least 4 sets of leaves on the center stalk. At this stage it is growing rapidly and will quickly recover from being pinched.
How to Do It. Locate the upper-most sprout on the main stem (see below) and snip it off with your fingers or scissors. Take care not to tear the stem or damage the nearby leaves. See the image at left.
Why to Do It. Removing the plant's terminal bud will stimulate lateral buds (lower on the stem) to develop into new stems. Where the sprout was removed, the plant will generate two shoots rather than one.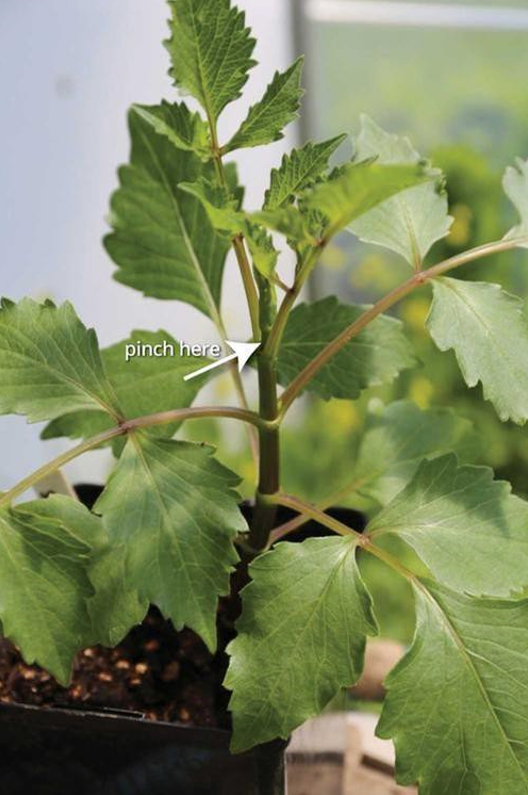 Step 6: Controlling Insects and Disease
Aphids are a popular pest that likes to attack dahlias. Ladybugs, parasitic wasps, and lacewings will all attack aphids, so avoiding chemical pesticides is beneficial to your dahlias. Using a strong stream of cold water can help wash aphids off the plants.
Insecticidal soap can also help.
Removing spent blooms and keeping your dahlias clean is the best way to prevent any diseases that would shorten your dahlia's bloom-span.
Step 7: Deadhead Regularly
As mentioned above, removing spent blooms is a great way to prevent any dahlia diseases, but deadheading also encourages new blooms to continue all the way up to the first frost. Simply use your fingers or gardening scissors to clip off the flowers that are browning or looking tired.