How to Grow Begonias In Containers
Begonias brighten up shady areas with their colorful blooms. Unlike most flowering plants, which require at least a half day of full sun, begonias actually prefer growing in the shade. They also never have a down time. Once begonias begin flowering, they bloom continuously from summer to frost.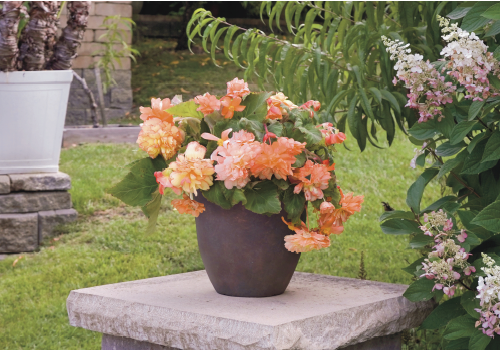 What's Included in Your Kit
Your kit includes a bag of soil, 3 begonia bulbs decorative pot, lid and a small plastic bag containing rubber plugs.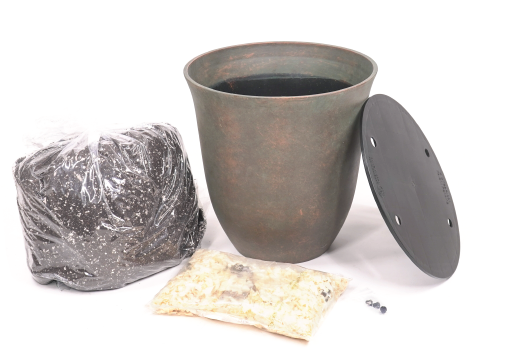 Step 1: Save the Base Plugs
Your container comes with a bag containing three rubber plugs. These are installed when the container is moved inside or when starting plants indoors before being moved outside. When the plugs are removed for outdoor use, this provides adequate drainage for your soil. When indoors, these plugs prevent a leaking mess.
To install, press firmly on the top of the plug until the wider top is flush against the bottom of the pot.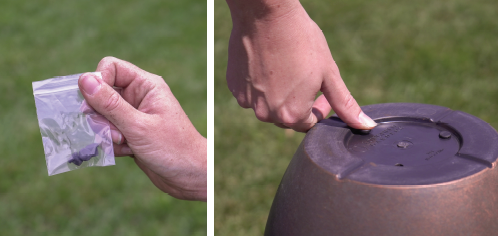 Step 2: Arrange Bulbs & Soil
Fill the container with the whole bag of soil. Place your begonia bulbs with point facing up (top) and the base down (bottom), 1" below the soil line. Space them evenly in the container and cover lightly with soil.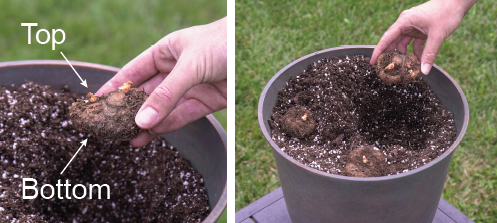 Step 3: Watering
Water lightly after initially planting. After that, hold off on watering until the first sprouts emerge. Overwatering before you see leaves may cause the tuber to rot. Sprouts should appear in 2-4 weeks.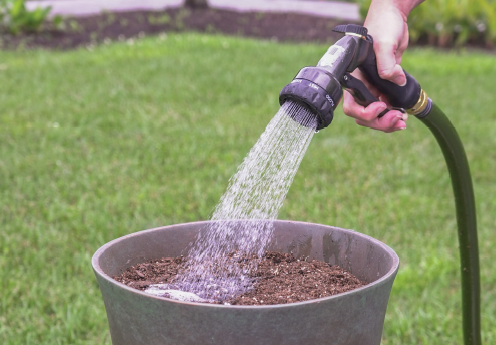 Begonias thrive in soil that is neither dry nor saturated. Finding the perfect watering level is pretty simple, usually watering about every two to four days. Take note that when it's hot and dry you'll need to water more often than when the air cools down and the soil holds more moisture.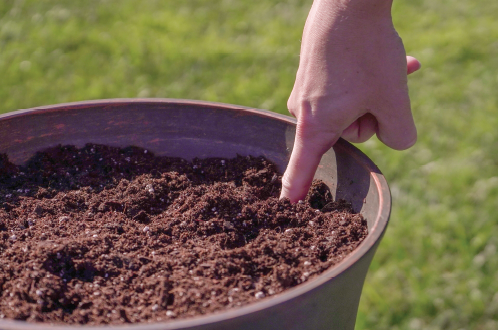 Step 4: After Care
Once your begonias have filled out, water them as needed. Make time to drench the entire root ball at least once a week. Allow the soil surface to become dry to the touch between watering as overwatering can lead to rot and disease.
To produce a good show of flowers, tuberous begonias need to be fertilized consistent- ly all season long. Fertilize with fish emulsion early in the season to help the plants bulk up. Once buds appear, switch to an all purpose fertilizer for flowering plants. Follow label directions for dilution rate. Feed every 2 weeks or mix to half strength and feed every week.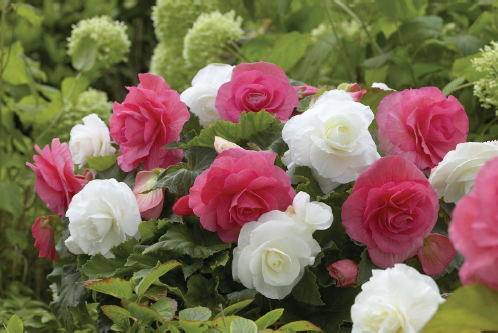 Step 5: After Care in Growing Zones 4-7
In zones 4-7, begonias may be treated as annuals and you can discard after they die back. ,You can also store the tubers indoors and replant them again next spring. Simply move the pots to a protected location before risk of frost. Stop watering and let the plants die back naturally.
Step 6: After Care in Growing Zones 8-11
In warmer climates, begonias begin their dormancy around the time late fall sets in for zones 8-11. Blooms will slow down, and foliage starts to yellow. Leave your begonias in the container a stop watering. Move the pots to an area where the soil will stay completely dry throughout winter.