How to Plant Blueberries
Choose a planting location with full sun. Though blueberry plants will tolerate partial shade, they will produce fewer blossoms and less fruit.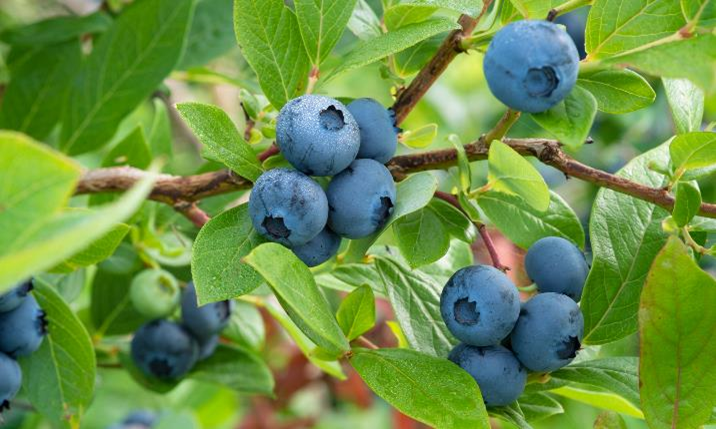 Good drainage is essential. Select a well-drained, weed-free planting area and loosen the soil 12" deep. To increase aeration in the soil, you can mix compost and aged wood chips into the planting area (ideally more than a month before planting). Dig a generous hole that will not crowd the roots. Position the crown of the plant (where roots meet stem) so it is level with the soil surface. To avoid future crowding, give each plant about 3 feet of space in all directions.
Healthy, productive blueberry plants require acidic soil (pH of 4.5 to 5.5). This is more acidic than most garden soil. You may want to test the pH of your soil before planting to make sure the plants will have the growing conditions they need to thrive. If the soil in your yard is too alkaline, garden sulfur (available at most garden centers) may be used to gradually lower the pH level and keep it at the level blueberries require. Follow garden sulfur package instructions carefully for application rates.
Caring for Blueberries
Providing consistent moisture throughout the growing season will encourage healthy growth and good fruit production.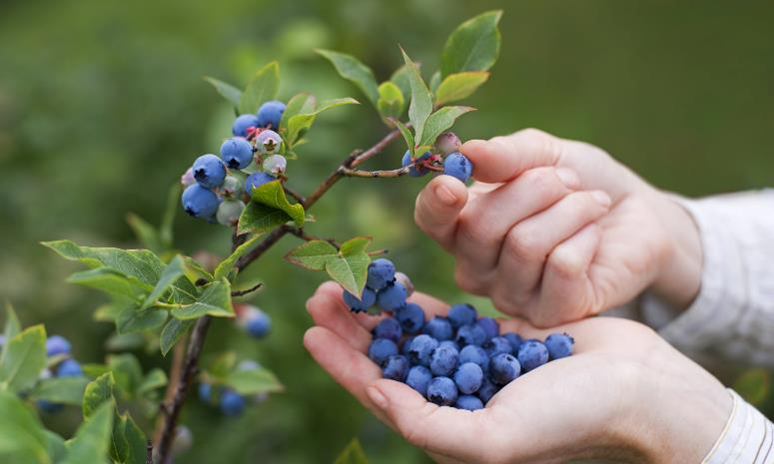 Though most blueberry cultivars are self-pollinating, the plants will usually produce larger crops of berries when at least two different cultivars are planted near each other. Blueberry plants are long-lived but relatively slow growing. It typically takes 8 to 10 years for them to reach their mature size. From a 2 year plant, you can expect new plants to begin bearing fruit after 1 year.
Blueberries have shallow roots. For best results, mulch the soil around the plants with 2-3" of woodchips. Keep the area weeded. If rainfall is inadequate, water young plants weekly for the first growing season. Begin fertilizing one year after planting. An acidifying fertilizer may be used to help maintain the proper soil pH.
Blueberry plants do not need staking or other means of support. The plants may be pruned in late winter, starting year three. Prune to maintain the desired shape and to remove weak or damaged branches.
Blueberries should be allowed to ripen on the plant. Wait until the berries are plump and intensely colored and be sure to taste them first. If they are tart, allow them to ripen for several more days. Store picked fruit in the refrigerator or freeze for later use.
Blueberries for Home Gardens
Legacy produces fruit even in mild climates. Plants are somewhat slow to mature but yield large crops of berries with excellent flavor. Attractive fall foliage in northern climates. 5-6 feet tall.
O'Neal is heat tolerant and ripens early in the season. Widely considered the south's tastiest highbush blueberry. Grows 4-6 feet tall.
Jersey is a classic blueberry, known for its sweet, dark blue, mid-size berries. It ripens in late summer and is good for extending blueberry season. Plants grow 6-8 feet tall.
Bluecrop is a great blueberry for cold climates. The plants produce large clusters of fruit in mid to late July. Delicious for fresh eating, baking, or freezing. Grows 4-6 feet tall.
Earliblue yields ripe fruit weeks before most other varieties. You can expect this time-tested variety to produce plump, light-blue berries that are excellent for fresh eating. 4-6 feet tall.
Sharpblue was introduced by the University of Florida and will produce excellent berries even in mild climates. The 5-6 foot plants bear extra-large, extra-sweet, dark blue fruit that ripens early in the season.
Patriot has a mild flavor that is great for baking, preserving and freezing. Short growing and more adaptable to different soil types. Can be grow in in containers or garden beds. Early blooming
Berkeley is a mid season blueberry that produces large clusters of sweet berries. Grows 5-7' tall. Good for baking, preserving and freezing.