If I were hiring a garden designer to plant the containers around my front door, I'd expect to get something pretty special. Big, dramatic plants in unique and surprising combinations. Container gardens that get talked about and that look fabulous every single day from summer through fall.
The front of my house doesn't look anything like the front of this one. But these planters are delivering exactly the kind of WOW I'm talking about. To make a statement you need big pots and big plants.
Ask a Professional
Creating high impact container plantings is a year-round endeavor for garden designer Nick McCullough. His family business, McCullough's Landscape and Nursery in Columbus OH, has many long-term clients with excellent taste, expansive gardens and high expectations. This means Nick is always on the lookout for new plants and planting combinations that will impress and delight.
Count on Summer Bulbs
In most cases, Nick's team is responsible for caring for the containers they plant. This means they need to feature high performing, low maintenance plants that don't lose steam midseason. Over the years, summer bulbs such as elephant ears, cannas and caladiums have become mainstays in Nick's container garden designs.
The photos in this post were taken by Nick last summer. By collaborating with Nick, we get lots of fresh ideas for new varieties and combinations. In return, he gets bulbs to fuel his creativity!
You don't need a large space to create a high impact container gardens. In the example below Nick created an elegant display of green-on-green, featuring Caladium White Christmas.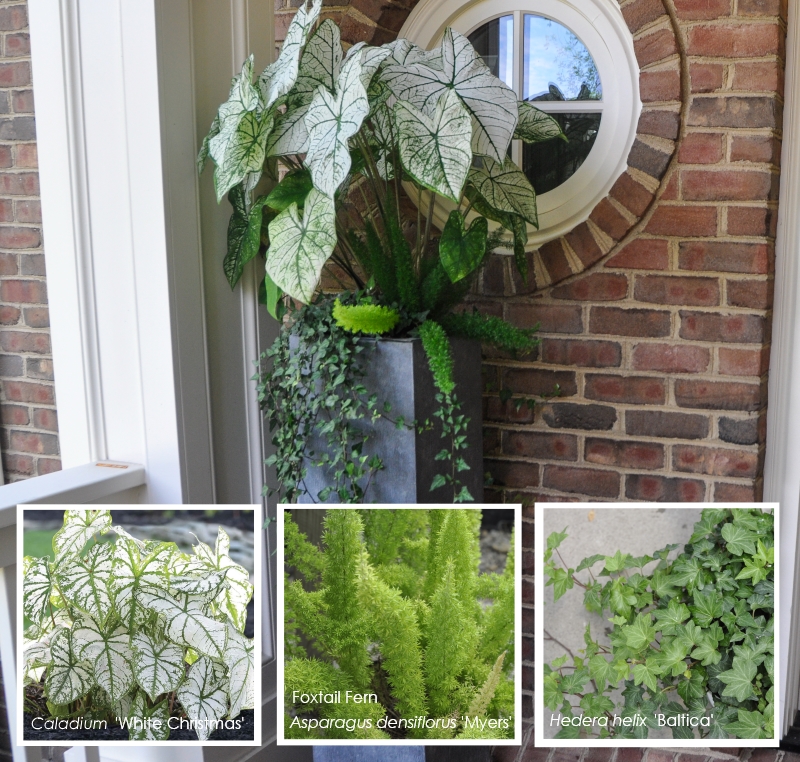 For more information about these plantings, be sure to read Nick's blog post: Summer Containers Using Bulbs and Summer Tropicals, which appears on his blog, Thinking Outside the Boxwood. If you are on Pinterest and not already one of his 3M+ followers, be sure to check out Nick McCullough.