It's midsummer and the dahlias are coming on strong. This year, my cutting garden is filled with 70 of these solar-powered flower-producing machines. Hopefully this is the peak of my dahlia obsession and I'll be able to scale back next year. (Yeah, right?)
These plants have already been pushing out blossoms for several weeks, and will continue blooming right through early October. That's a LOT of flowers to manage, so I thought it would be smart to seek some professional advice!

Meet Avid Gardener and Floral Designer Alicia Schwede
Alicia is a floral designer and a nationally-respected leader in the local cut flower movement. In addition to running her floral design business, Bella Fiori, she also writes a popular blog, gives workshops, coaches other florists, publishes a magazine and has a growing Instagram following. You can learn more at: flirtyfleurs.com.
In addition to this busy professional life, Alicia is also an avid flower gardener/flower farmer. This year she is growing more than 700 dahlias in her home garden! So her suggestions below draw on her professional experience as a florist as well as her practical experience as a home gardener.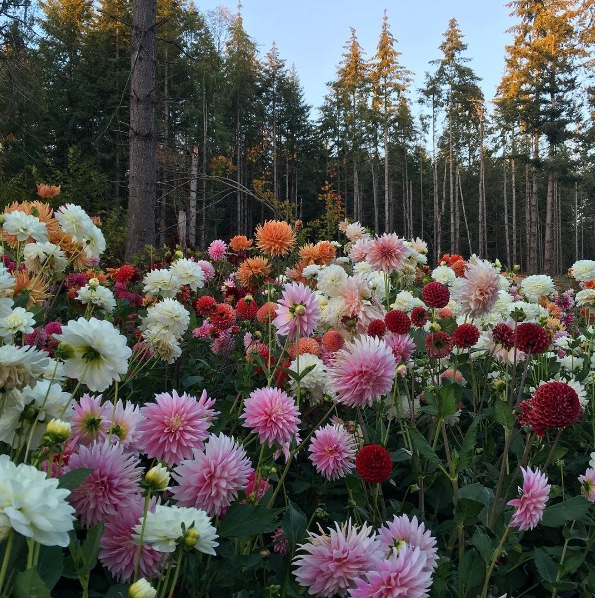 Alicia's cutting garden in late summer.
TIPS FOR MANAGING DAHLIAS
I was surprised to hear how closely Alicia spaces the dahlias in her cutting garden. She plants individual tubers just 6" apart, and clumps are spaced 8 to 10" apart, depending on their size. There are two reasons she plants so closely: to avoid staking and to save space.
Alicia's lives north of Seattle and her yard is surrounded by tall trees. The open area where she grows dahlias is large, so the plants get plenty sun, but the trees keep out gusty winds. She has found that crowding the tubers within each row encourages the plants to support each other — and lets her get by without staking. In windier locations this strategy may not be as successful.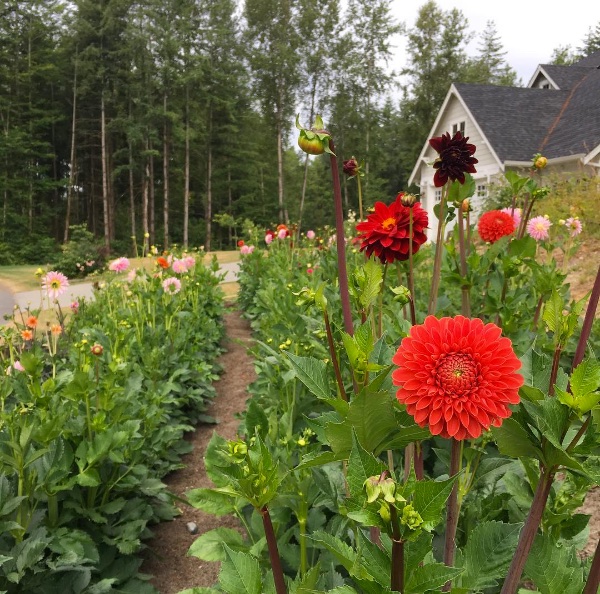 Alicia plants the rows densely.
I have always pinched my dahlias when they're about a foot tall. Alicia doesn't bother. She just lets the plants go and then manages their height by the way she harvests the flowers (more on that below). She does prune around the bottom of each plant, removing all the lower leaves to expose the bottom 6" of the stem. This encourages good air circulation and minimizes disease problems.
When you're growing dahlias, deadheading (cutting off spent flowers) is critical. Alicia makes deadheading an almost daily ritual. Rather than just nipping off the dead flower heads, she takes the time to remove the flower and its stem — just as she does when cutting for market.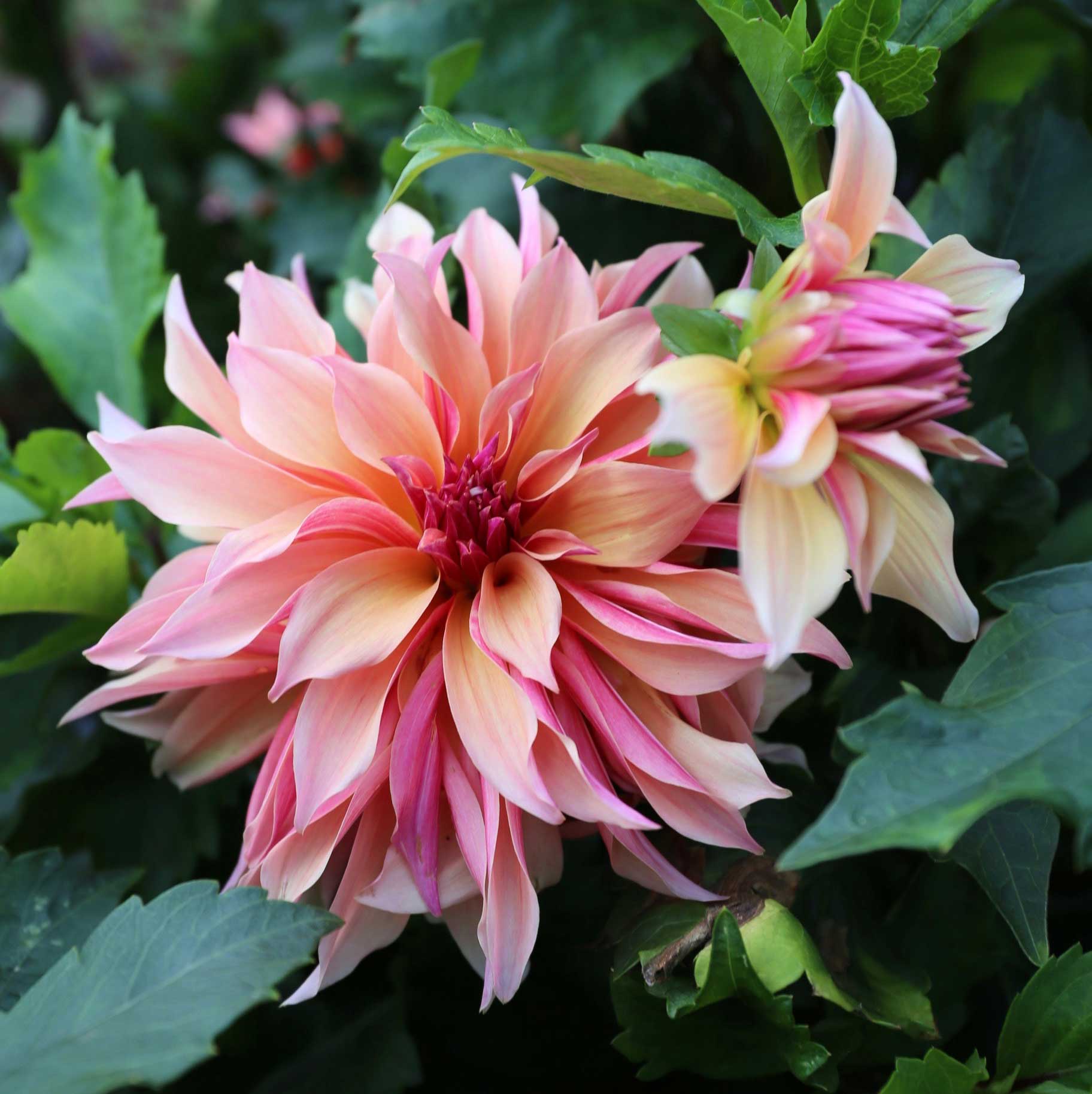 TIPS FOR CUTTING DAHLIAS
Alicia cuts her dahlias in the early morning when the flowers are still dewy, or at the very end of the day when the bees have finished foraging. She says bees often nap in her dahlias – especially the dinnerplates – so she prefers to cut flowers before or after the bees are at work.
I also asked about the optimum stage for cutting dahlias. She says it all depends on the project. For production work (wholesale, workshops, weddings), she cuts her dahlias when the flowers about half open. If she is using the flowers the same day, she cuts them fully open. To make sure the blossoms are still young and fresh, turn the flower over and check the petals on the back. If they are limp or soft, you have only about 24 hours before they start dropping.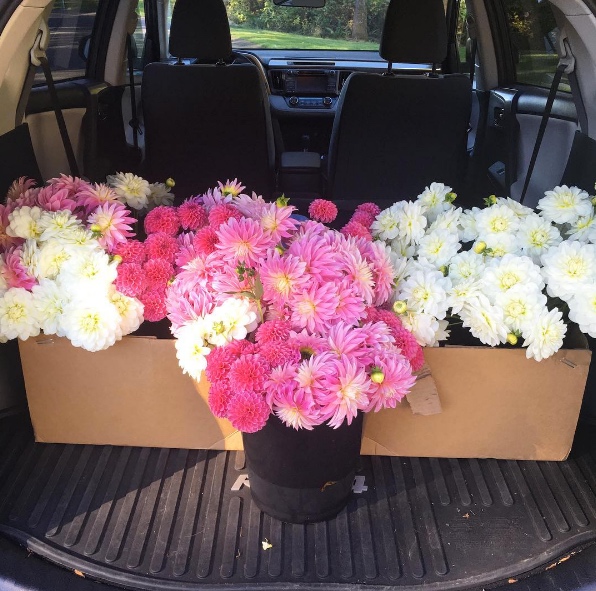 Delivering dahlias to the Seattle Wholesale Growers Market
Alicia's brings some of her dahlias to market, and wholesalers will only purchase blossoms with stems that are at least 12-15" long. My dahlias tend to be bushy, with short, stubby stems, so I was eager to know how she gets longer stems.
Here's the secret. When Alicia cuts a dahlia, she always cuts a long stem — right back to one of the main uprights. This means sacrificing unopened buds, But, if you can steel yourself and only cut long stems, your plants will produce more long stems. Of all Alicia's cutting garden tips, I found this one to be the most valuable — and the hardest to do!
She also made more plug for deadheading. If you are passing on a flower that looks a little too mature, don't leave it on the plant. Those spent flowers act like sponges, soaking up rain and welcoming disease. They also provide a home for earwigs, which feed on young flower buds.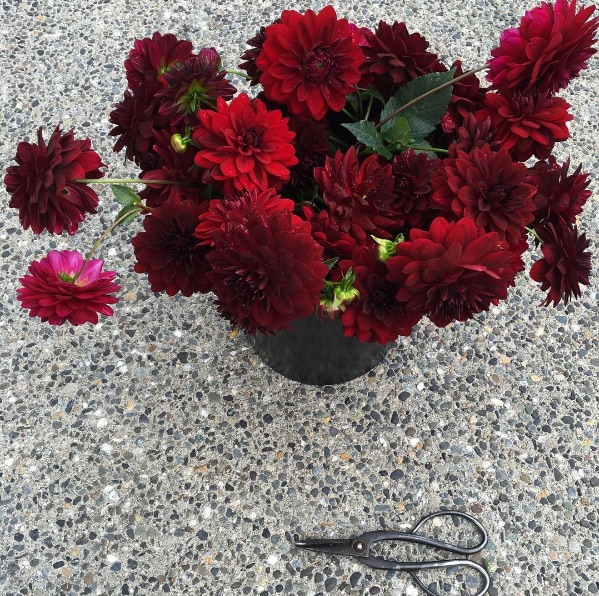 TIPS FOR CONDITIONING DAHLIAS
Commercial growers — and flower farmers — condition their cut flowers to make them last as long as possible. For Alicia, conditioning starts the minute she cuts a stem. Sharp scissors or pruning shears ensure a clean cut and make it easier for the cut stem to draw up water. (It also makes it easier for the plant to heal the cut.)
Harvesting buckets are essential. Alicia uses squeaky-clean harvesting buckets, filled with 6-8" of clear, cool water. The buckets are bleached after every use to kill any bacteria that might clog the stems and prevent them from absorbing water. As each flower is cut, it is dropped immediately into the water. If you're cutting a lot of flowers, bring out a more than one bucket. Dahlia petals can be easily damaged if the blossoms are crowded.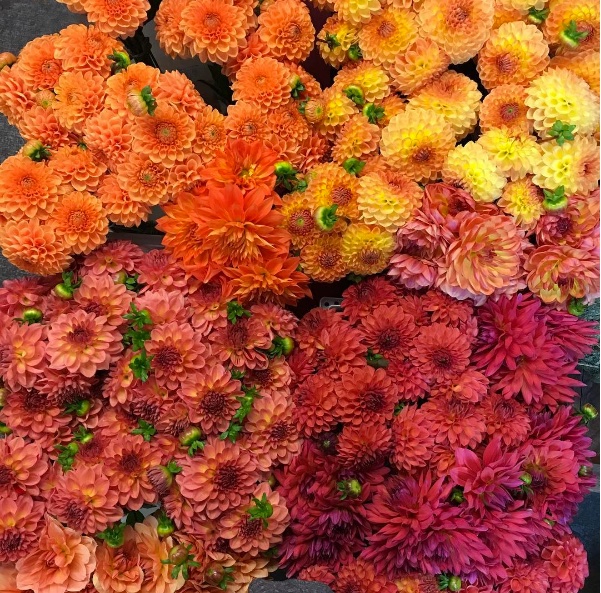 Alicia usually cuts her dahlias in the evening and then gives them an overnight rest in a cooler. If she's cutting in the morning, she still makes sure they get at least an hour in the cooler. If you don't have your own walk in cooler at home (!) you can still give your dahlias a short rest in the coolest place you have available – the basement or even in an air-conditioned room.
Over the years, Alicia has become known for her long-lasting flowers. She attributes it to her obsession with keeping scissors, buckets and vases scrupulously clean. She does not use flower food in the conditioning buckets or in vases. Just clear water. She cautions that flower food must be diluted correctly. More is not better and can damage the flowers.
When cutting lots of dahlias for a big event, Alicia sometimes treats them with Quick Dip, a commercial hydrating treatment that improves water uptake. Freshly cut stems are dipped in the solution for just a second or two and then put into water.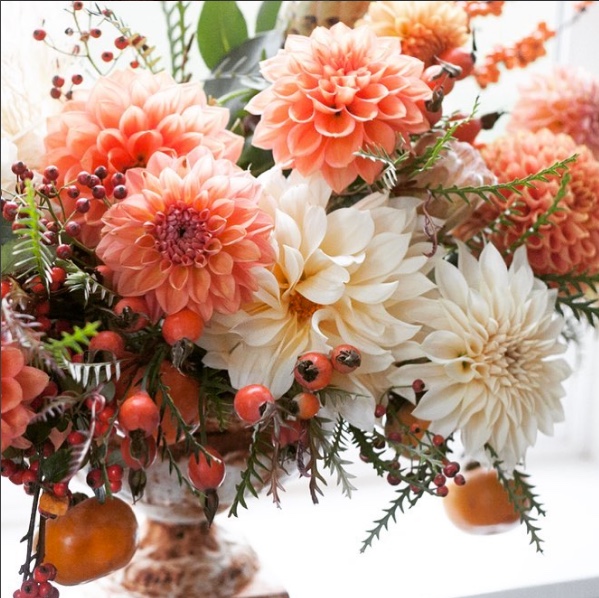 TIPS FOR ARRANGING DAHLIAS
Dahlias are such impressive flowers that it's easy to put a fistful in a vase and have it look fabulous. If you want to use your dahlias in a more composed arrangement with greenery and other flowers , it can be a little challenging — for a couple reasons.
Roses, tulips, sweet peas and many other popular cut flowers have pliable stems that are relatively easy to arrange in a vase. Dahlia stems are stiff, so the flowers need to be placed just so. Dahlia varieties with big, 8 or 9" flowers can also overwhelm mid-size arrangements and make neighboring flowers look insignificant. Plus, in late summer it can be hard to find willing partners. By that time, most annuals and perennials have already passed their prime.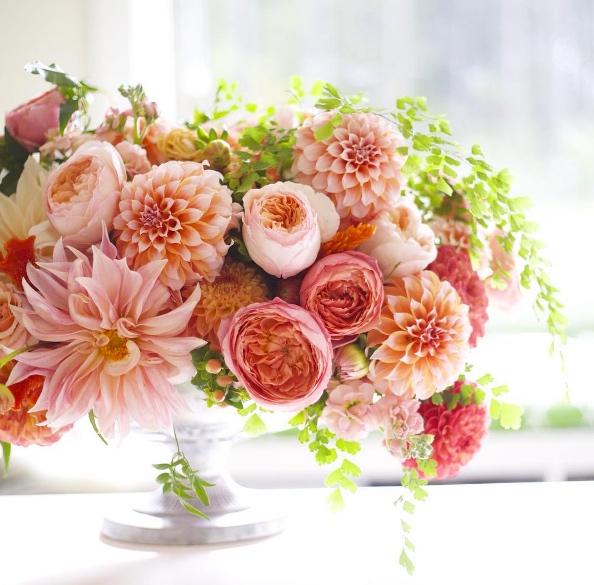 So when Alicia is arranging dahlias, greenery is very important. It helps ground the large blossoms and set off their lovely shapes and colors. She often incorporates cuttings from shrubs as well as vines, blackberry canes, scented geraniums, ferns and herbs such as sage and mint.
For companion flowers, roses are her go-to favorite. With their rich colors and soft textures, they can hold their with the dahlias. Many roses re-bloom in late summer, so the timing also works well. Other good companions include monarda, zinnias, nasturtiums and clematis. The very best companion for a dahlia is often another dahlia. So Alicia grows a wide range of flower styles, including pompon, ball, single, cactus, anemone and waterlily.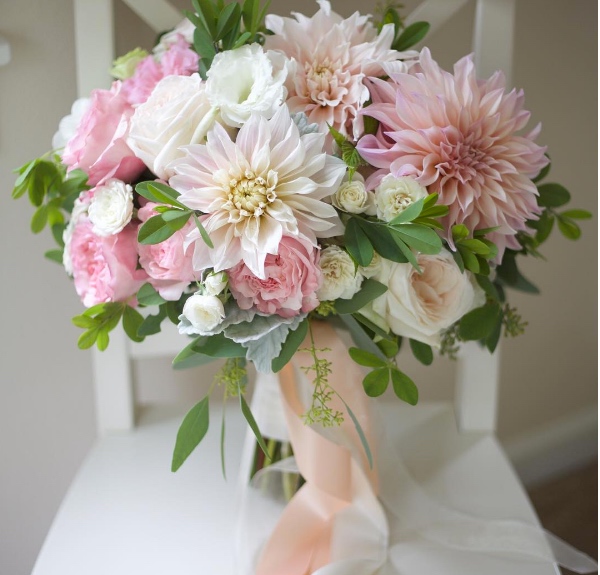 Before your flowers go into a vase, give the stems a fresh cut and strip off all the lower leaves before putting flowers in a vase. No leaves should be in or touching the water. If possible, change the water every day or two. Give the vase a quick wash and recut the stems before you put them back.
To learn more about Alicia and FlirtyFleurs, click HERE. Be sure to check out her beautiful magazine HERE.